photographing wiggly kids
I often photograph wiggly little moving kids. When little ones are one, two, three, four, and more years old they often don't want to sit still for me while I take their picture. Sometimes, that's okay because it's wonderful to capture their little personality as they do things and move around. But there are also times when their mama would love a photograph of them sitting still and looking sweetly in my direction. So in an attempt to capture this I almost always set up my manual camera settings before I ask the little people to sit still for me.
I first come up with a plan. Where do I want them to sit or stand? And then I look at the available light and set up my manual camera settings for that light (ISO, aperture, and shutter speed). I set my custom white balance. Then I take one quick test shot of the spot where I will have the wiggly little kids sit (before I put the kids there, see below) and I double check my exposure on my LCD screen. Does it look okay? Are my settings appropriate for what I'm trying to achieve and for how many little people I will be photographing? Is my shutter speed fast enough for possibly moving little kids?
**All of this above is done before putting the kids in the spot.
When I'm pretty sure that I'm ready to snap away with my camera, then I gather the little people and put them where I want them for the photo. That way I am not using up the one minute of the time that they will sit still for me to figure out my camera settings. But instead I can use that one or two minutes of them sitting still to capture a few pictures.  :)
The manual settings for this shot below:
ISO – 200 (full shade, in the morning)
aperture – F4.5 (four boys and I want them all in focus even if their depths of field differ slightly)
shutter speed – 1/250 (what I needed for proper exposure)
lens – 50mm 1.2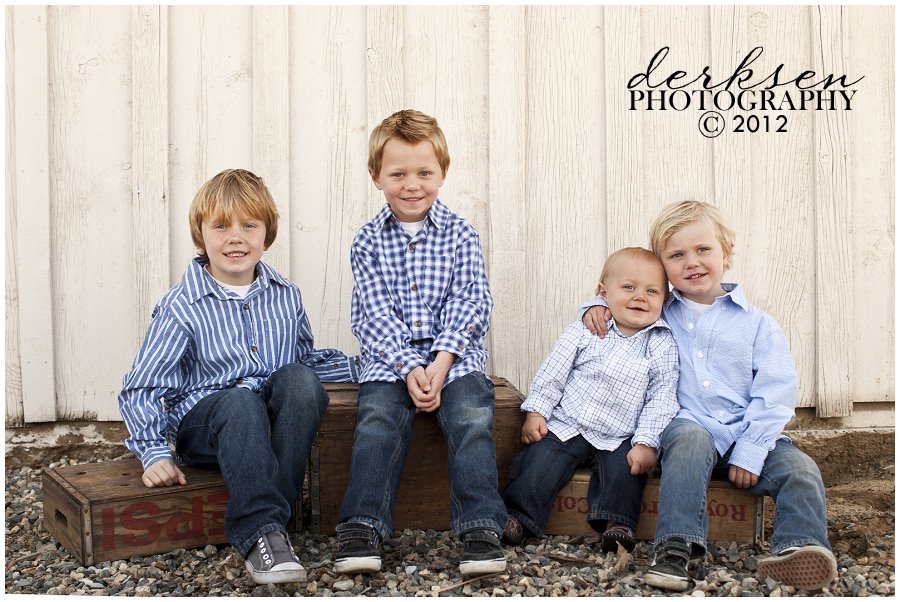 Try it! I hope it's helpful to you! Have fun photographing those wiggly little people. They're some of the best little challenges to capture! Because they're tricky their mama's (or you…if they're your kiddos) will appreciate the pictures even more.