I will be offering two workshops this summer and the dates have finally been set!  The dates are…
**NEW JANUARY & FEBRUARY 2012 DATES COMING SOON!**
Saturday, June 18, 2011 (9:00am to 3:00pm)
Saturday, July 30, 2011 (9:00am to 3:00pm)
I love teaching people how to use their cameras. So many people have purchased these fancy digital SLR cameras (you know the bigger cameras where you can change out the lenses) and well, they don't know how to use all the fabulous buttons and functions on their cameras.
Do you want to learn how to use your digital camera using manual settings? Want to stop using auto and being frustrated? If you're interested, I'm offering two workshops this summer (most likely my last workshops until 2012) that will focus on how to use your camera and it's manual functions so that you can have more control over the images you capture. We will also touch a bit on natural light, color, contrast, and composition. Each workshop will be limited to only six people, allowing plenty of one-on-one time and for each question to be answered.
Registration will be filled on a first come, first serve basis.
Registration and payment are due when you sign up for the class. Your spot is not saved until your payment is received. Spots are first come first serve. Cost is $279.
We'll even be shooting pictures of some little kids together in our own mini photo shoots for hands on practice
Workshops are offered in Fresno, California, in my home.
Equipment needed for workshop: DSLR camera and recommended Canon's 50mm 1.8 lens or one of Nikon's wide aperture lenses like Nikkor 50mm 1.4 lens or Nikkor 35mm 1.8 lens (Nikon's focusing system is different so check that it's compatible with your camera and will focus before buying, for most camera bodies it has to have "AF-S" in order to auto focus).
Here we are learning, learning, learning and pushing all the buttons on our cameras: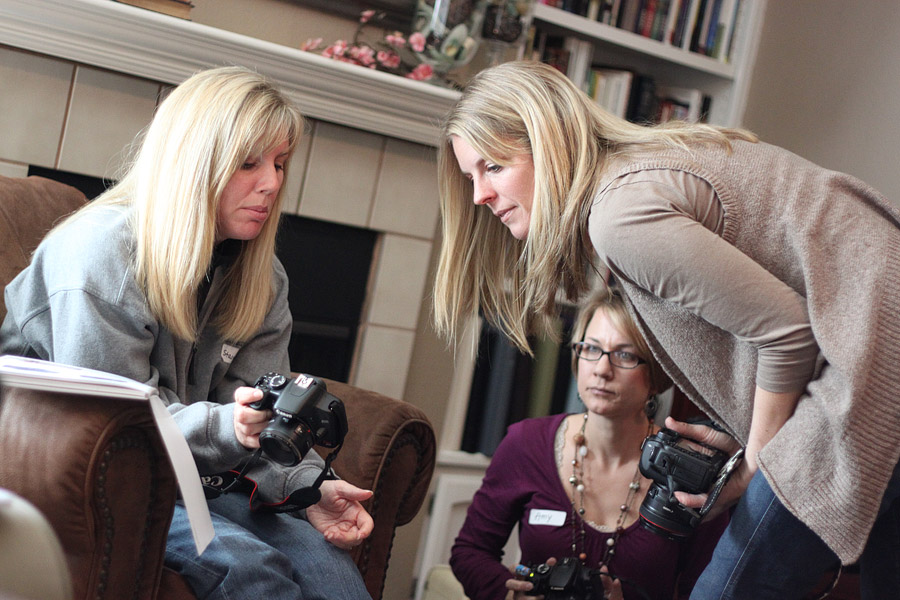 Then our first little photo shoot inside with a little baby girl…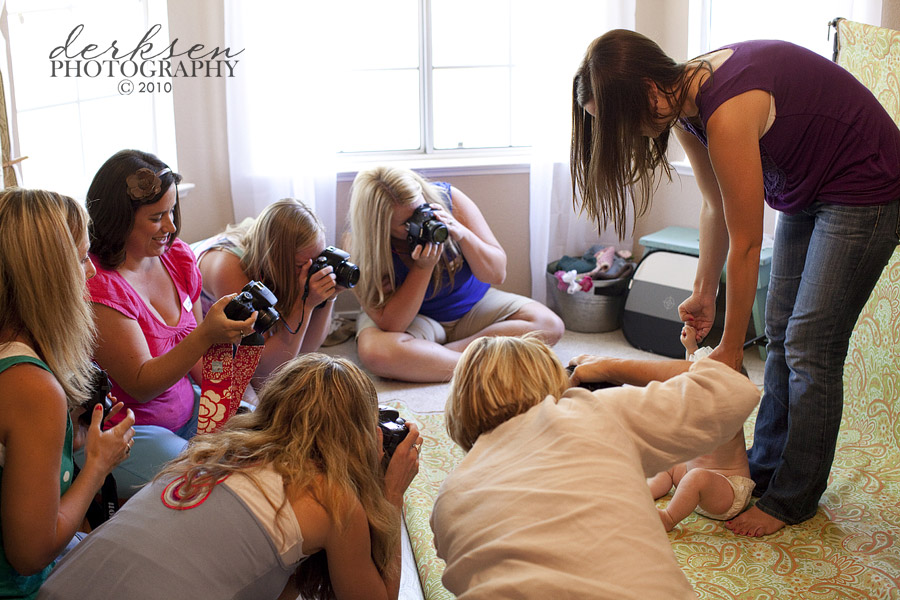 An image I captured of the little miss…
Then later in the afternoon we practiced more with an outdoor photo shoot of some little people…
Evidence that I will become a fool to get the shot (I guess that's the secret, huh?) … You know you love that I'm posting this…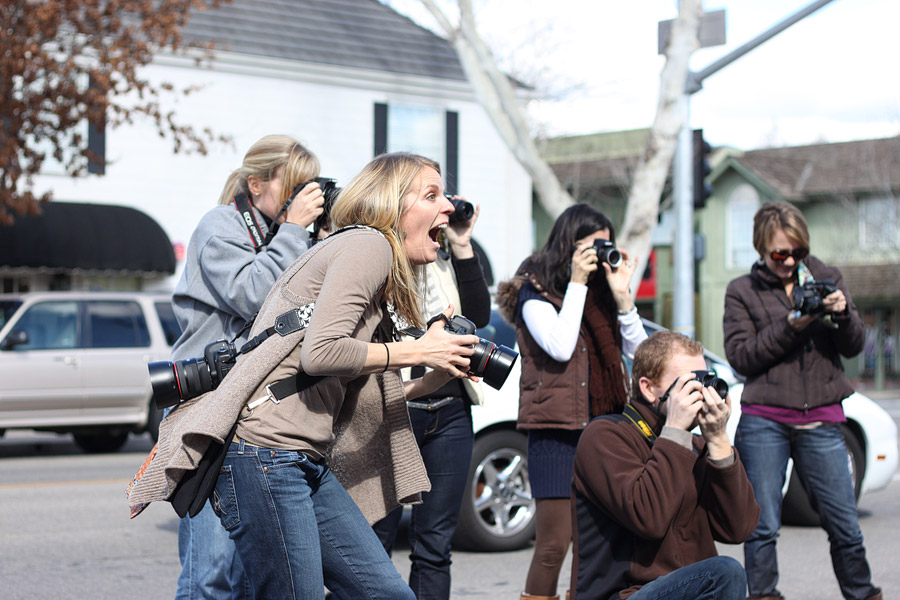 And the smiles I got as a result of my foolishness. :)
So, come learn how to use your camera on manual!
These two workshops will probably be the last two offered in 2011 due to the busy Fall season that will follow. :)
Here are a few comments from previous workshops:
"I would TOTALLY recommend the workshop to others. I really appreciate how you combined lecture (more like informative conversation) and hands on application.   That really helped me grasp an understanding of all the new lingo, settings, suggestions, ideas, etc. I would have to say that my favorite part of the workshop was going to Old Town Clovis to shoot.  That really gave me an opportunity to apply all that I learned.  It gave me a sense of accomplishment to see that I was really walking away with true value from the class. I also want to thank you for responding to my emails even after the workshop.  So many times you take a course and never hear from the instructor again…..that is not the case with you!  I have received so many compliments from friends and family about the photos I have taken recently. THANK YOU!
~Vanessa from Fresno
"I am so thankful I have a better understanding of how to work my camera and take pics of my boys.  I loved getting so much hands on experience and I feel so accomplished taking a decent picture (especially on manual!) Now when I take a picture and look to see that it's too dark, fuzzy, etc., I know what to do to fix it!  Thank you so much for your heart and passion for photography and helping people love what you love."
~Jen from Clovis
"I would definitely recommend this workshop to someone else.  I loved that you limited the number of people so that each of us had  plenty of "one on one" time. Whether we were beginners or more advanced, there was plenty to learn and practice.   I also thought it was super helpful to have two live photo shoots.  It gave us the chance to practice what we were learning while receiving great feedback.  It was also really fun to practice with the different lenses. Great workshop!"
~Brooke from Clovis
"Cori's class was amazing!  I have gone from taking ok pictures to really loving my pictures!  I would recommend her class to anyone who wants to improve your own photography skills.  So much great information!"
~Cary from Fresno
"Thanks so much for the workshop Cori!!  I feel like I have a brand new camera!!  I would recommend your workshop to anyone!!"
~Kirsten from Orange County
"I would definitely recommend the class to a friend.  Cori made learning my camera fun and took my intimidation of it away.  By the time I left, I felt very confident in manual and I was very excited to go and experiment using the tools Cori taught us. Thanks so much for everything.  Its true–I am so excited to try now whereas I was just frustrated before!!"
~Kristy from Fresno
"I took Cori's workshop after owning a dSLR camera for less then a month. I entered the class never  having used my camera off the auto setting. I didn't know what ISO, aperture or a F-stop was but I left the class with the ability to control the quality of my photos. I never felt embarrassed to ask a question or for assistance. Without this workshop, the money spent on my camera would be a waste because, I wouldn't be able to use my camera to it's full potential."
~Theresa from Fresno