I asked some of you peeps to help me out by filling out my super short online survey and tell me what you want to learn. Thanks so much to so many of you for filling it out. It WILL benefit YOU…I promise. Here's the first evidence of that. I am aiming to blog more on what you want to learn. :) So I had some people requesting more details on my shot, how the lighting was and how I was positioned. And also some on my editing. I will touch on editing in the next day or two so check back for that.
Update: Survey is closed, but I'd still LOVE your feedback. Just use the "Contact Me" link above.
To give you a little background on this image….
This picture was taken at about 2:30/3:00 in the afternoon (recently)….not the best time of the day to shoot in my opinion. Why? Because the sun is so intense. But when I took this picture we found some shadier spots where the lighting was softer. You can see the top of the picture is getting brighter, that's because the shade was wearing off back there and it was more direct sun. The little boy was sitting on a blanket in the grass and I was squatting or maybe even sitting on my bootie in the tall grass as well…whatever it takes to get down at his level. There was no flash or reflectors or anything else used in this pic. Just my camera and lots of goofiness. :)
My manual settings & equipment used:
ISO – 160 (bright sunny day)
aperture – F 3.2
shutter speed – 1/160
lens – canon's 85mm 1.2L (this is quickly becoming my favorite lens)
camera body – canon's 5d mark II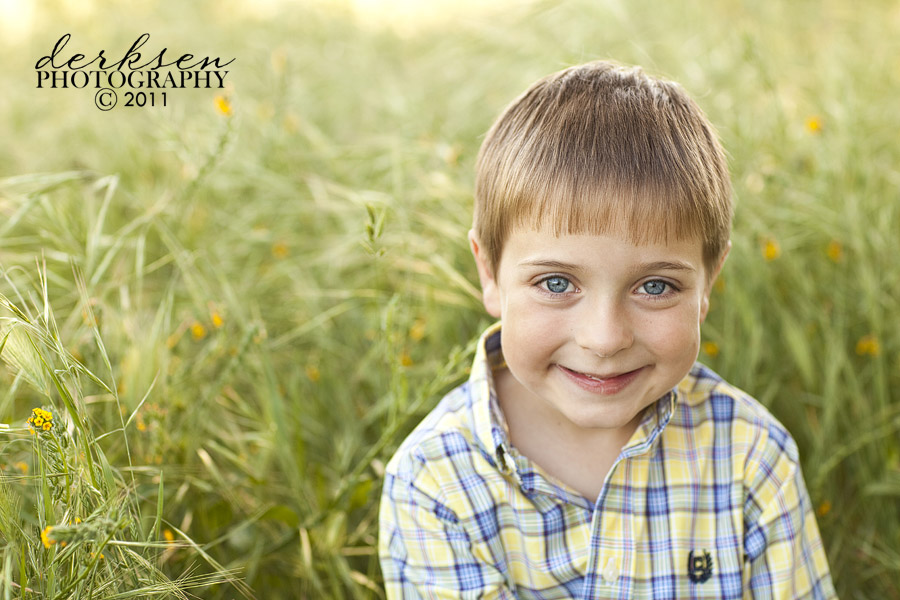 Remember to check back in a day or two for a blog post on the editing that was done in this picture. :)